Arizona's Cabinet & Countertop Installers 
At Arizona Interior Construction, we take great pride in providing the highest quality workmanship for our customers. With over 15 years in the industry, we have the skills, the knowledge, and the experience to transform the countertops and cabinets in your kitchen, bathrooms, laundry room, office, workshop, and outdoor living space. Contact us today to receive your free in-home estimate. We're proudly serving all of Arizona!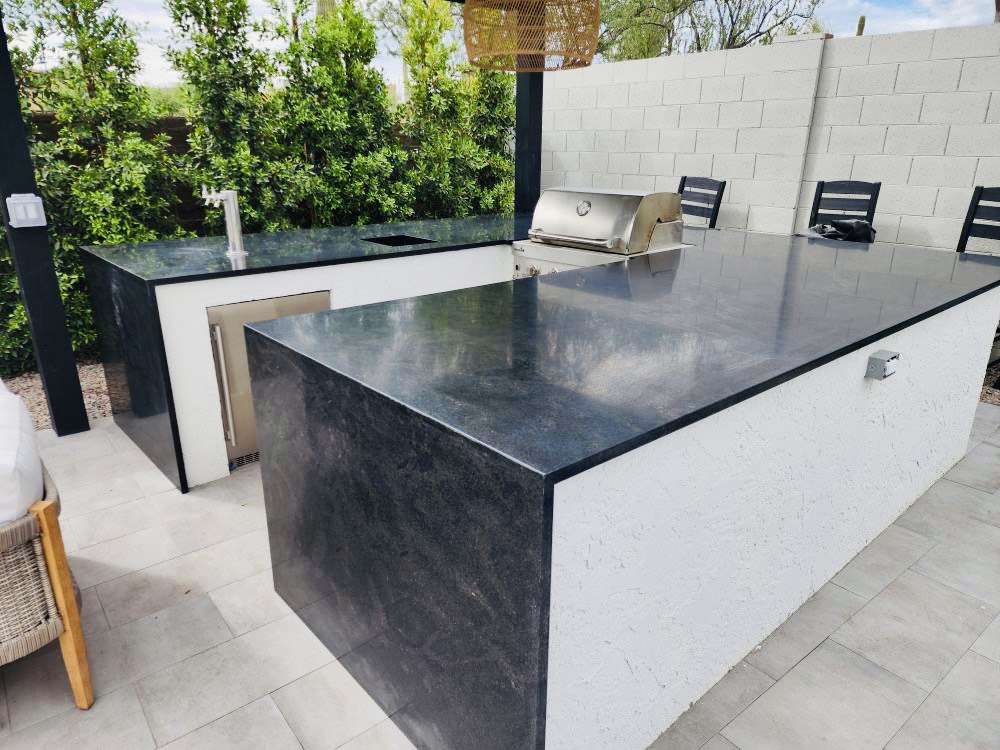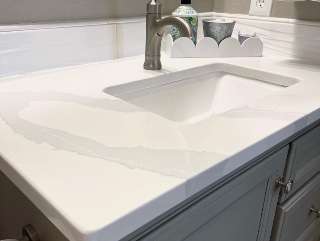 Kitchen Remodeling
Removal of countertop and cabinets, installation of new countertops, cabinets, and stone backsplash

Bathroom Remodeling
Removal of countertop and cabinets, installation of new countertops, cabinets, and stone backsplash

Repair Needs
Chip and seam repair, stain removal, drilling for sink accessories and new appliances

Quartz and Granite Countertops
Choose from 2cm or 3cm slabs for your kitchen, bathroom, backsplash, outdoor kitchen, office space, and workshop

Stone Care and Maintenance
Guidance on how to care for and maintain your quartz and granite countertops to keep them looking new and beautiful

Free Estimate and Design Help
We come to you to talk about your project, offer sample selections, take measurements, and provide a comprehensive estimate
1. Free In-home Estimate
We talk to you about your project and take necessary measurements.
2. Select Your Stone
You choose the stone and a comprehensive estimate is provided.
3. Stone is Ordered
The stone is ordered and sent to fabrication. Homeowner orders necessary appliances.
4. Install
We demo and install. The result is a clean and beautiful space you will love.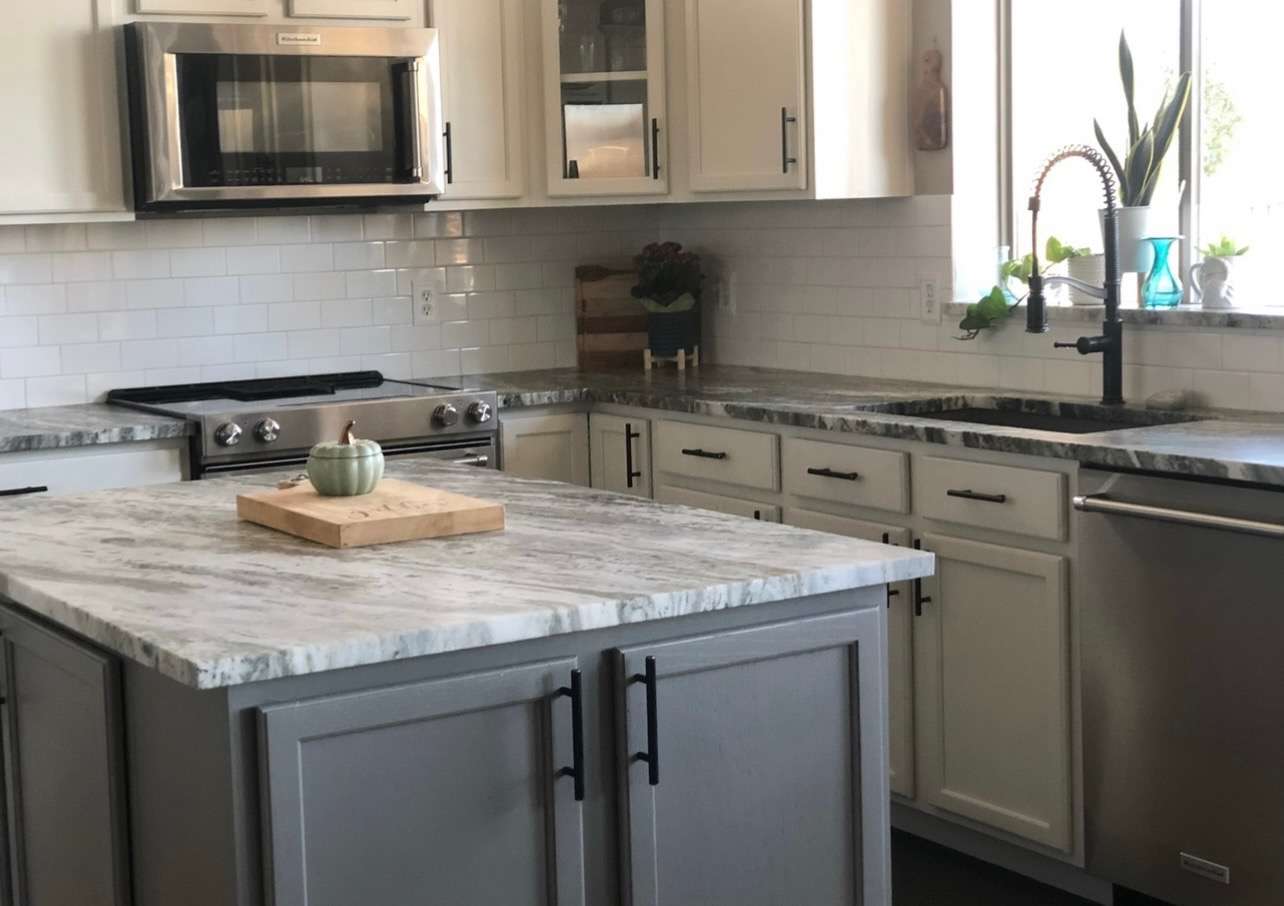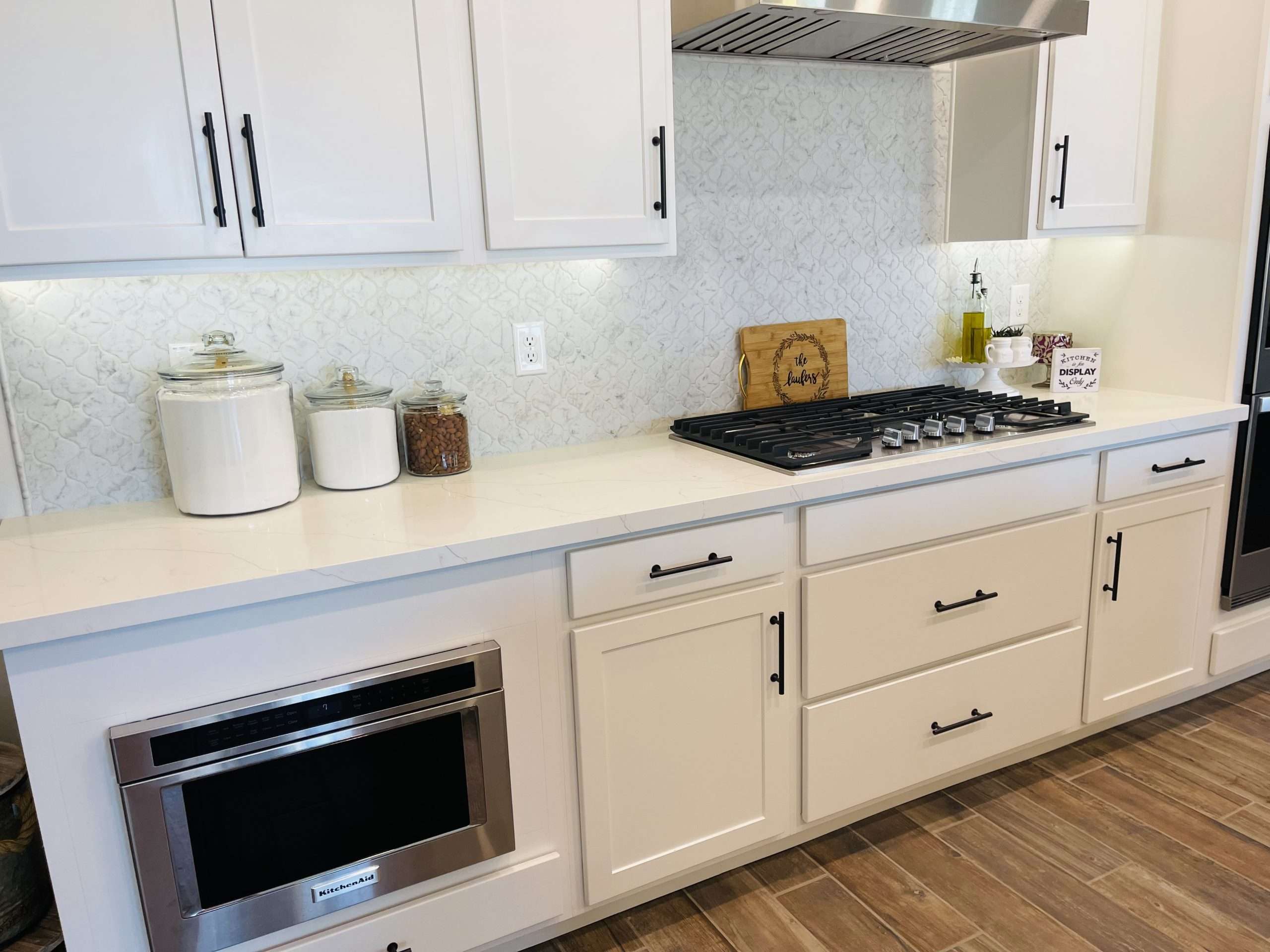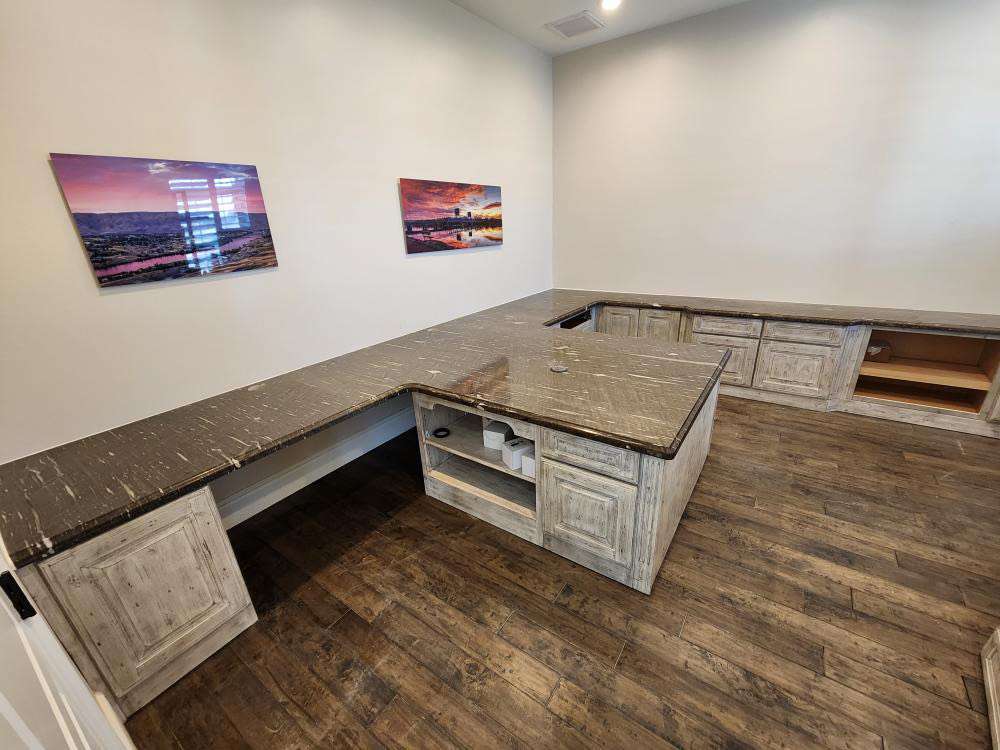 "They put sparkling white quartz in our restaurant which turned out great considering we were working with a very old/uneven floor. Thank you guys for traveling to us and doing a great job!"
"These guys were amazing. From demolition of the old counters to the
Installation everything went perfectly. They cleaned up everything and the new granite tops could not look any better."
"Mike installed new granite countertops throughout our house. Using his past experience, he gave us good advice on color choices and installation. He was easy to work with and did a great job."
Frequently Asked Questions
How much does it cost to install a kitchen countertop?
There are several factors that go into the cost of installing a kitchen countertop: the type of material chosen (including the pattern and thickness of the material), if any edging or braces are needed, if the backsplash is being incorporated, the size and layout of the kitchen, how complex the installation is, and even the city you live in can dictate the cost of the materials. 
Stone countertops, such as quartz and granite are the most popular choice and offer the highest durability, can range from $50 to $150 per square foot, including installation. The cost of quartz and granite can vary greatly depending on the pattern and thickness chosen. More exotic or rare types of granite can be more expensive. Quartzite countertops, which are considered a high-end option, can range from $70 to $200 per square foot, including installation.
Our team is happy to take measurements, provide stone samples, and discuss the details of your project as part of your free, in-home estimate.
What are the most popular materials for kitchen countertops?
When it comes to selecting a kitchen countertop, there are several materials available, each with its own unique characteristics and aesthetic appeal. Some of the most common kitchen countertop choices are granite, quartz, and quartzite.
Granite is a natural stone surface that can make a kitchen feel luxurious. Granite countertops come in a wide range of colors and patterns, are highly durable, and heat-resistant.
Quartz countertops are engineered stone surfaces made from quartz particles mixed with resin. They are non-porous, scratch-resistant, and require minimal maintenance.
Quartzite countertops are known for their beauty and elegance. The unique veining pattern of quartzite makes it highly sought after, however, it requires more maintenance. Quartzite can be much more expensive than any other stone.
Is it possible to replace a damaged section of my countertop without replacing the entire surface?
It is possible to replace a damaged section of a countertop without having to replace the entire surface. The success of the repair depends on the material of the countertop. Stone countertops, such as marble and granite, can be more challenging to repair, depending on the damage, since they are installed in large slabs. If a section of the countertop does need to be replaced, it should be noted that an exact match cannot be guaranteed, especially if the countertop has aged or changed in color. Small damaged areas, like chips in the countertop, can generally be filled and corrected in little time.
How long does it typically take to install a kitchen countertop?
Once we have discussed the details of your project and you have selected your stone, you will be provided a written contract outlining your project and the final cost of it. Upon your written approval, the stone is ordered, fabricated, and installed. This can take 2-3 weeks from the date of your written approval. 
On average, a typical kitchen installation can take anywhere from a few hours to a day or two. Several factors, including the size and complexity of your kitchen and the type of material chosen, can determine the amount of time it takes for the actual install.
What factors should I consider when choosing a countertop material?
When choosing a countertop material, the aesthetic appeal of the countertop material and its cost usually drive the decision. There are several other factors that should be considered to ensure the stone of choice is a practical one for the space. When choosing a countertop material, consider the advantages and disadvantages to determine if the material is the best choice for your particular lifestyle and space. Here are a few points to consider:
Durability: Some countertops, like quartz, are great choices for high-use areas such as kitchens and bathrooms because of their durability and resistance to scratches, and stains. Quartz is also easy to maintain. Granite, known for its longevity, is also a very durable material that is resistant to scratches, heat, and stains when sealed properly. 
Maintenance: When choosing your countertop material, you will need to think about how much time you want to spend maintaining your countertops. Stone countertops vary in their upkeep. Quartz does not need to be sealed, whereas granite requires sealing periodically and quartzite requires even more maintenance to protect it from stains.
Functionality: Think about your lifestyle and how you will be using the countertop. Do you have children? Do you cook a lot? Consider all the ways in which the countertop will be used and if it can withstand those daily activities.
Do I need to hire a professional for countertop installation or can I do it myself?
Hiring a professional to install a countertop is generally recommended to ensure a high-quality result. Our experienced professional installers will not only have the skill and knowledge, but the resources–tools, equipment, time, and manpower to complete the job in a timely manner. Additionally, as a small, family-owned company, we do all of our own fabrication and installation. Keep in mind that mistakes incurred by the DIYer can lead to additional costs and time to repair and replace materials installed improperly.
What are the maintenance requirements for different types of kitchen countertops?
Kitchen countertops vary in their maintenance requirements depending on the material used. Stone countertops are by far the most popular material chosen and have similarities in their care:
Quartz countertops are an engineered stone surface that is non-porous and resistant to staining, which means it does not need to be sealed. Maintenance includes cleaning with mild soap and avoiding sharp objects and abrasive cleaners that may scratch the surface.
Granite is a durable natural stone that does require sealing to protect it from stains and spills. To clean granite and maintain its shine and appearance, a mild cleaner such as dish soap and water should be used. Acidic substances such as vinegar and lemon juice should be avoided as well as abrasive cleaners that can dull or etch the surface.
Although beautiful, marble is a high-maintenance countertop material. Marble countertops should be sealed regularly to protect them from stains. Spills should be wiped up promptly and cleaning should include a mild detergent with warm water. Acidic substances and harsh cleaning products should be avoided as they can etch and discolor the marble.
Quartzite is a natural stone that is both beautiful and durable, but it does require regular maintenance. Because quartzite is porous, it is essential to seal it properly to prevent stains and water absorption. Wiping spills quickly and regular cleaning with a mild detergent and warm water, while avoiding harsh chemicals and acidic cleaners, will keep it looking its best.
Can I customize the shape and size of my countertop during installation?
Design and planning are an essential part of any countertop installation process. Once measurements are taken and the stone is ordered, it is sent to fabrication. Precise cuts and corners are made. At installation, sections are joined. Modifications made at the time of installation can require that a new piece of stone is ordered and cut. This can increase the price of materials and labor as well as increase the time to complete the installation.
Are there any special considerations for installing countertops in a kitchen with an under-mount sink?
Yes, there are a few things to consider when installing countertops in a kitchen with an under-mount sink. We have experience in under-mount sinks to ensure a perfect fit in every countertop installation we complete. Here are some important factors to consider when installing a countertop with an under-mount sink:
Sink Cutout: The cutout for an under-mount sink has to be precise in order to accommodate the size and shape of the sink. As part of the preparation process for countertop installation, the homeowner will be responsible for purchasing a new sink. We can provide a few options, at an additional cost, which can be discussed before or after the quote is provided. Most new sinks come with a template that we then use to make the cutout for the new sink. This is done carefully to avoid any errors or gaps between the sink and the countertop.
Support and Reinforcement: Under-mount sinks rely on proper support and reinforcement to bear the weight of the sink and water-filled dishes. Because they are typically installed beneath the countertop, it is important to ensure that the cabinet structure beneath the sink is strong enough to support the sink's weight. There are instances when reinforcing the area around the sink cutout with plywood or additional bracing is needed to provide extra support.
Waterproofing: It is crucial to ensure proper waterproofing to prevent water damage since under-mount sinks are mounted below the countertop. To ensure that water is prevented from seeping into the countertop and causing damage over time, we apply a 100% silicone sealant around the edges of the sink cutout to create a watertight seal.
Countertop Material: When installing an under-mount sink, the choice of material is important. Stone materials, such as granite and quartz, work well with under-mount sinks.
Can stone countertops be repaired?
In many cases, stone countertops can be repaired. Stone countertops experience wear and tear through daily use and it is common to need some level of correction during your ownership of them. Our ability to provide an undetectable repair job depends on the extent and type of repair needed. Some common repairs for stone countertops that we have successfully corrected are chips, cracks, stains, scratches, etching, and seam repairs.
How do I measure my kitchen for accurate countertop dimensions?
Accuracy is crucial when measuring a kitchen to determine countertop dimensions. You are welcome to measure your space to determine countertop dimensions, but we will always take our own measurements on-site and provide a quote at no cost to you.
In short, to measure a kitchen, bathroom, office, or workshop for a replacement of the existing countertop, first, begin by creating a rough sketch of the layout of the space you are wanting to transform. Next, measure the depth of the countertop from the wall to the edge then measure the countertop length. To measure countertop length, start from one corner of the wall and measure along each wall where the countertop will be installed. Take note of any breaks or changes in direction, as this will affect the countertop length. Record your measurements along with the depth, height, and length of any breaks or openings for appliances. Lastly, determine and note the amount of overhang you want for your countertop. A standard overhang will typically range from 1 to 1.5 inches (2.5 to 3.8 cm).
Can I install a countertop over uneven cabinets or flooring?
Because uneven surfaces can cause the countertop to warp, crack, or become unstable over time, installing a countertop over uneven cabinets or flooring is generally not recommended. To ensure the long-term durability of the countertop, a level and stable surface is crucial for proper installation. If your cabinets or flooring are uneven, it's important to address the underlying issue before installing the countertop.
What are the advantages and disadvantages of different edge profiles for countertops?
The edge profile of a countertop refers to the shape and design of the edge of the countertop. When choosing an edge profile, it is important to consider your personal preferences, the overall kitchen design, your lifestyle, and practicality. Certain profiles may also be more suitable for specific materials or styles. Our design team is happy to guide you in choosing the appropriate edging at the time of your free, in-home estimate. There are several edge profiles available, each with its own advantages and disadvantages. Some common edge profiles and their characteristics are:
Straight Edge: Advantages:
-A clean and simple design.
-Low maintenance and easy to clean.
-Compliments contemporary and minimalist aesthetics.
Disadvantages:
-Can be sharp and potentially hazardous, especially for households with young children, where edges meet.
-Lacks decorative detail.
Eased Edge: Advantages:
-Softens the sharpness of a straight edge.
-Safe, especially in homes with children.
-Low maintenance and easy to clean.
Disadvantages:
-Decorative appeal is minimal.
-Can lack uniqueness and character.
Beveled Edge: Advantages:
-Can add a subtle decorative element.
-Offers a smooth transition from the horizontal surface to the edge.
-Cleaning is easier than more intricate designs.
Disadvantages:
-The slanted angle of the bevel may chip or break more easily.
-Compared to other profiles, can offer limited design variations.
Bullnose Edge: Advantages:
-Rounded edges feature a classic and timeless look.
-Safe, particularly in high-traffic areas.
-Can be resistant to chipping or breaking.
Disadvantages:
-May appear less modern or contemporary.
-Limited variations in size and style.
Ogee Edge: Advantages:
-Profile is elaborate and elegant.
-Decorative and can enhance the visual appeal.
-Appropriate for traditional or formal kitchen designs.
Disadvantages:
-Intricate detailing can require more maintenance and care.
-Can be difficult to clean due to smaller crevices.
Waterfall Edge: Advantages:
-Gives a dramatic and striking appearance.
-Offers a seamless flow from the countertop to the sides.
-Ideal for showcasing beautiful types of stone materials.
Disadvantages:
-Skilled craftsmanship and installation is required.
-Requires additional material and labor, so it is more expensive.
-Can have limited compatibility with certain countertop materials.
Are there any specific countertop materials recommended for kitchens with heavy use or high heat exposure?
Yes, for kitchens with heavy use or high heat exposure, there are several countertop materials that are recommended. No matter the material, it should be noted that it is essential to follow the manufacturer's care and maintenance instructions to ensure the longevity of your countertop material. Our design team is happy to help you choose a material that suits your preference and lifestyle at your free, in-home estimate. Two, great countertop options that can withstand heavy use and heat include: 
Granite: Because granite is a natural stone formed under high heat and pressure, it is known for its heat resistance properties. Granite countertops can typically handle hot pots and pans without getting damaged. However, it is worth noting that it is still recommended to use trivets or hot pads to protect the countertop because prolonged exposure to extreme heat can still cause thermal shock and potentially damage the surface. 

Quartzite: Quartzite is a natural stone created from sandstone that has been subjected to high heat and pressure over time. This results in a very hard and dense material that is heat resistant to an extent. Sudden or extreme variations in temperature could potentially cause quartzite to crack.
What are the pros and cons of choosing a natural stone countertop versus a manufactured quartz countertop?
When choosing between a natural stone countertop and a manufactured quartz countertop, various factors should be considered. Generally, the choice between natural stone and manufactured quartz countertops will depend on your personal preferences regarding aesthetics, the maintenance requirements, durability, as well as your budget. Here are the pros and cons of each option:
Natural Stone Countertop:
Pros:
-Natural stone, such as granite and quartzite, offer a unique and aesthetic appeal with one-of-a-kind distinct patterns and colors.
-When sealed properly, natural stone is generally highly durable and can withstand heat, scratches, and normal wear and tear.
-With proper care, natural stone countertops have a timeless appeal that can enhance the value of your home.
-Natural stone is durable and naturally heat-resistant.
-Because it is a renewable resource and doesn't require extensive manufacturing processes, natural stone is relatively eco-friendly.
Cons:
-Natural stone can absorb liquids and stains if not sealed properly. To maintain its ability to resist stains, regular sealing is required.
-Natural stone countertops, especially for rare and premium varieties, can be more expensive than manufactured quartz.
-For those who prefer a more consistent and uniform look for countertops, the unique patterns and color variations may not be as appealing.
Manufactured Quartz Countertop:
Pros:
-Because quartz countertops are engineered to be non-porous, this makes them highly resistant to stains, bacteria, and moisture absorption.
-Quartz countertops, unlike natural stone, do not require sealing and are relatively easy to clean with mild soap and water.
-Manufactured quartz offers a wide range of colors and patterns, which make them consistent and uniform in appearance with minimal variation.
-Quartz countertops are suitable for high-traffic areas because they are generally highly durable, resistant to scratches, chips, and cracks.
-Manufactured quartz is often less expensive than natural stone options like marble or quartzite.
Cons:
-Quartz may provide a more limited aesthetic appeal than natural stone, which has more natural variation in appearance.
-Quartz, compared to natural stone, is less heat-resistant and can be damaged by placing hot objects directly on the surface.
-Quartz can be vulnerable to certain chemicals and harsh cleaners, so it's important to avoid using abrasive or acidic substances that could etch or damage the surface.
-Because the manufacturing process involves mixing quartz particles with resins and pigments, this may have some environmental implications.
Can I install a backsplash along with my new countertop, or should that be done separately?
There are many different types of backsplashes available. We specialize in providing stone backsplashes that are fabricated at the time of your countertop. Stone backsplashes that are continuous with the countertop create a seamless and cohesive look with little-to-no maintenance. With no grout lines or transitions between the countertop and backsplash, there are fewer areas for dirt, debris, or moisture to accumulate, which makes cleaning very straightforward. Backsplashes that are separate from the countertop will need to be installed after the countertop is installed.
What is the process of removing and disposing of old countertops?
When replacing existing countertops in a bathroom or kitchen, there are several steps that need to be taken before the old countertops can be disposed of. It will be the homeowner's responsibility to have the entire countertop area removed from any and all materials, the water supply must be turned off and any drain pipes and electrical wiring must be disconnected. It is also possible that some appliances must be moved. From there, we dismantle, haul away, and dispose of the old material properly. The area is then cleaned and prepped for the installation of the new countertop.
Should granite or quartz countertops be sealed?
Sealants act as a protective barrier that reduces the risk of permanent stains by slowing down the absorption of spills. Because quartz is an engineered stone of crushed quartz, resin, and pigments, it is nonporous and does not absorb liquids easily. Granite, on the other hand, is a natural stone that is porous to some extent. To seal granite and protect it from staining, we recommend using 511 Granite Sealer, which can be found at your local Home Depot or Amazon.
If I'm getting new countertops and painting my cabinets what should be done first?
We recommend that countertops be installed first and then have the cabinets painted. When cabinets are painted first, there is a risk of the newly painted cabinets cracking at the seams during the countertop installation. When countertops are removed and placed, it is possible for a slight shift in the cabinetry to occur. To avoid this effecting the newly painted cabinets, installation of the countertop is recommended before painting.
Do you install cabinets?
Yes, we install cabinets in kitchens, bathrooms, office spaces, workshops, laundry rooms, and She-sheds. We offer many different colors and styles to choose from. Installing cabinets typically involves several steps from planning and preparation, removal of existing cabinetry, preparing the wall surface, to installation. Our team will guide you through the process of matching your cabinetry to your stone countertop and stone backsplash and ensure you are left with a clean, completed project that you love.
Do you match existing cabinets to new countertops?
Yes, it is possible to match existing cabinets with new countertops and vice versa. When choosing cabinets and countertops, you'll want to consider the color, style, and material of both to ensure a cohesive and harmonious look. Our team is happy to offer samples and suggestions at the time of your free, in-home estimate. All stones vary, so we will also recommend that you visit one of our stone suppliers to view a full slab, with cabinet samples, and decide accordingly.
To achieve a cohesive look between your countertops and cabinets, there are multiple factors to consider. Here are a few tips to help you match cabinets to existing countertops:
Color coordination: Consider the dominant colors and the undertones in the countertop and cabinets. Choose materials that are going to compliment those colors. 

Material compatibility: Pay attention to the materials and select ones with a similar texture and feel. 

Contrast or blending: Your style will dictate if you want the cabinets to stand out as a contrasting element or blend in seamlessly with the countertops.